The Plum's and Simply Perfect team had the opportunity this last weekend to do a private cooking class with Chef Lizzie. Let's just say it was great food and great conversation. It is truly a gift to work with people you enjoy being around.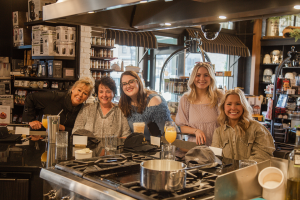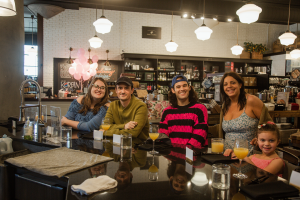 Chef Lizzie was excited to share the menu for brunch – she described it as classy & trashy. It included: Avocado Toast, Breakfast Crunch-Wrap Supreme, and Blueberry Bread Pudding with Homemade Ice Cream. The  avocado toast obviously being the classy and crunch-wrap supreme being the trashy. Read more about each course below!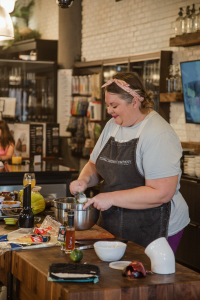 The avocado toast was prepared on toasted french bread. The avocado was mixed with lime, lemon, salt and pepper. She added egg salad on top of the avocado spread and topped it off with bacon pieces, alfalfa sprouts, radishes, blood orange olive oil, spicy sriracha vinegar. It was simply DELICIOUS.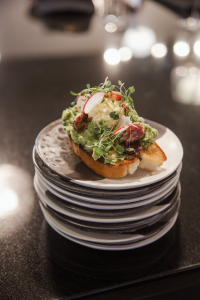 The second course was the breakfast crunch-wrap supreme. Chef Lizzie used a large burrito tortilla and layered queso, meat, shredded cheese, spanish rice, shredded lettuce, and diced tomatoes. On top of all of that, she placed a hardshell tostada and put a layer of sour cream down. After all the ingredients were in she folded it up and cooked it. This was a staff favorite for sure!
Lastly, the blueberry bread pudding was served. She topped it off with her homemade lemon cheese cake ice cream. She made sure to let everyone know how worth it is to buy an ice cream maker and the Emile Henry baker. Even though all of our bellies were full we made sure to scrape the bowl!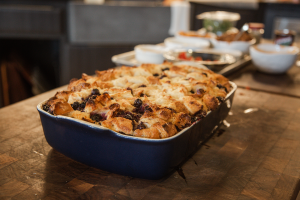 Plum's offers private cooking classes with local chefs. If you are interested in renting our kitchen these events are great for birthday parties, team building, bridal showers, anniversaries, or bachelorette parties.
Here are a few of the employees thoughts on their staff brunch private event:
Chloe: "I would definitely do another class. It was good food and its an elevated experience compared to going out to eat at a restaurant."
Alex: "The class was a lot of fun. Lizzie was extremely charismatic and I enjoyed listening to her talk about food."
Emily: "The food was AMAZING – and Lizzie made me laugh!"
Holly: "Such a fun morning getting to be with some amazing people and eat delicious food 🙂 Best team bonding experience!"
Heather: "I learned some new techniques and chef Lizzie was a lot of fun! I would for sure do another private event again."
Sherrill: "A relaxed atmosphere where everyone felt comfortable and it was great to strengthen our team!"
Kathy: "A good way to get together outside of work to boost morale and have fun!"
Cheers to a great experience at Plum's!