Rosemary Baked Peaches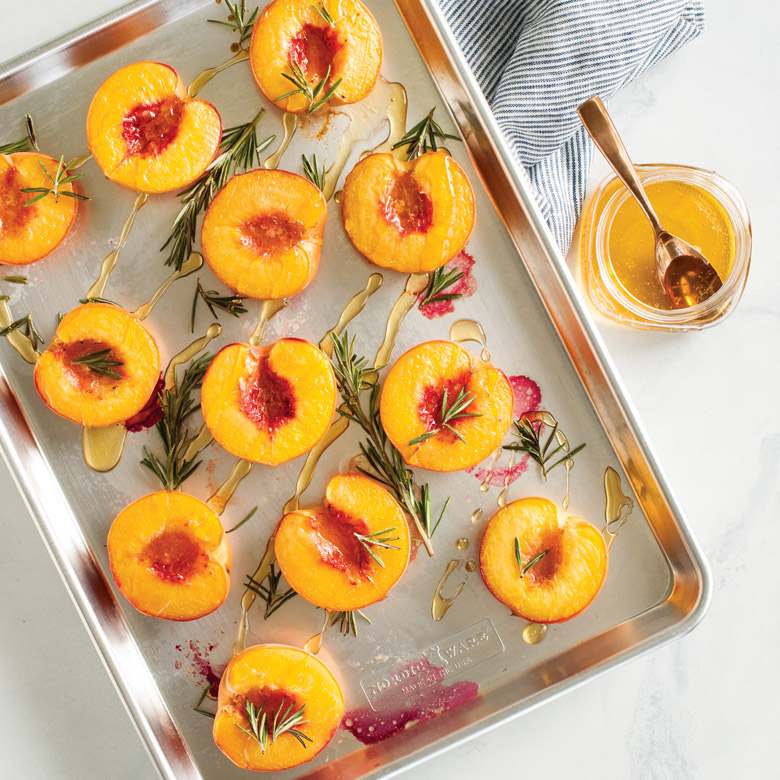 Rosemary Baked Peaches
Cook time
15 Minutes
Serving size
12 Servings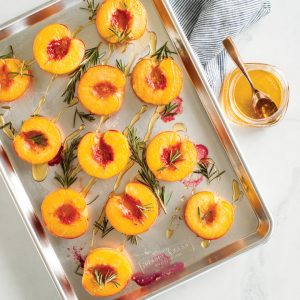 Ingredients
6 peaches, halved
1 stick butter, room temperature
Rosemary sprigs
Honey for drizzle
Optional for serving: balsamic glaze and vanilla ice cream
Recipe Preparation
Preheat oven to 400°F. Cut peaches in half, remove pits, and spread across a Baker's Half Sheet. Place 1/2-1 tablespoon slice of butter onto the center of each peach half. Sprinkle rosemary evenly across the pan, saving extra for serving. Bake peaches for 15-20 minutes, or until peaches are golden and baked through. Cool peaches slightly and drizzle a desired amount of honey when peaches are warm. Serve warm with honey and extra rosemary if desired.
Optional serving suggestion: Serve baked peaches on top of a bowl of vanilla ice cream with a homemade balsamic glaze.
To make balsamic glaze, add 3/4 cup Balsamic Vinegar and 3 Tablespoons of honey in a saucepan. Bring to a boil over medium heat, then reduce heat to low and simmer until glaze is reduced, about 15-20 minutes. Glaze should thicken and let it cool. Once peaches are ready, scoop vanilla ice cream in a bowl and top with one of the baked peaches. Drizzle desired amount of balsamic glaze and sprinkle extra rosemary on top.