Discover a color that says you. With a selection of bold, rich colors in a range of finishes and materials, Le Creuset is the leader in highly durable, chip-resistant enameled cast iron.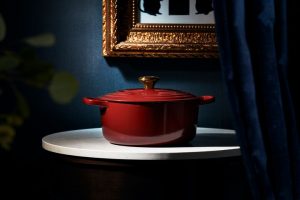 Rhone
Inspired by the lush wine-making region of Cotes du Rhone, comes a sumptuous red-plum, Rhone. So deep, so luxurious, so juicy, you can practically taste its richness. Of course, red has always been a foundational color, but this confident, complex shade offers the depth and nuance of Old World masterpieces refreshed for modern life.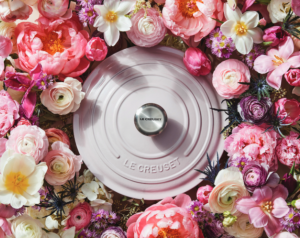 Shallot
Peel back a shallot and you discover the most delectable soft shade of flavor. Shallot captures that potent delicacy–a hue so gentle, so refined, it enhances anything it touches with grace, glamor, and gloss. Shallot hovers between the palest purple and pink with an extremely light whisper of lavender and gray. Le it charm your kitchen and table with a powerful sense of intimacy.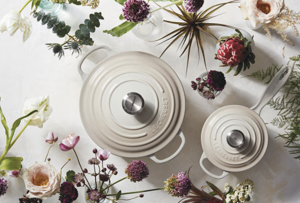 Meringue
Imagine the most delicious cream. Inspired by the French classic confection and beloved universally for its sweet simplicity, Meringue is a serene ivory. Perfect to layer with soft tones or embrace as an elegant, go-with-everything neutral, this hue is whipped, warm and versatile. If you're in search of a timeless neutral, bring a swoosh of serene into your kitchen with the easy-going elegance of Meringue.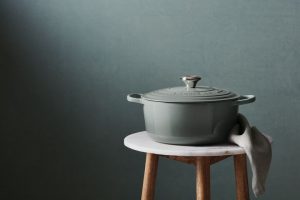 Sea Salt
A serenely beautiful tone – inspired by the sea's most treasured mineral. Sea Salt is an elemental pinch of flavor, ready to enrich any decor, enhance any taste with nuanced subtlety and style. The shade's balanced blend of green, gray and blue reflects the changing color of the ocean, while remaining versatile enough to season just about any existing color palette.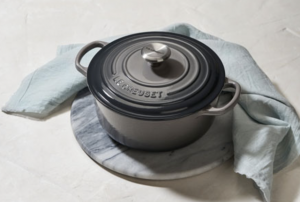 Oyster
The most sophisticated taste, raw and refined. Oyster entices like no other – in taste, and now in color: a lustrous mix of gray and brown with a seductive glint of purple. Inspired by the shell of the same name, it brings a raw and reminded quality to every kitchen and table that is pure elemental elegance.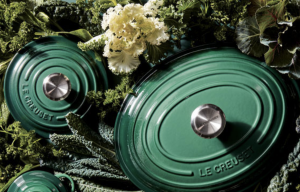 Artichaut
A soulful green with a vibrant heart. Rich. Intriguing. Beautiful. Layered with luxuriant flavor. Inspired by a vegetable so artful, it leaves are a mosaic waiting to flower. Le Creuset evokes the artichoke's mystique in a chic, opulent green. Keep it tonal, add some spice, or let it be the lush backdrop to a fiery bloom of color.

Cerise
Inspired by the sensuality of hand-picked cherries, Cerise is as essential as red lipstick, as classic as a red rose, as luscious as a ripe tomato. Cerise adds depth to other fiery tones, speaking directly to a chef's heart.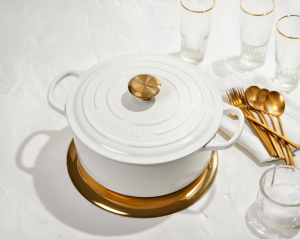 White
A beacon of pure light, white is the kitchen's chameleon – the brightest point on the color spectrum. A color that needs no introduction, yet perfectly presents all others.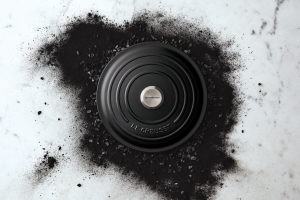 Licorice
There's a reason black never goes out of style. Licorice is our deepest matte version yet, sweetened with just a glimmer of sheen. It's day-to-night sophisticated, goes with everything and always looks amazing.
Photo and blog credit to 'Le Creuset'.