1. Scrubbies
  These scrubbies are definitely a staff favorite; if they can't get something clean, it cannot be done. The wired texture is perfect for scrubbing stuck food or cleaning outside the kitchen, such as your bathrooms, floors or boats! Throw them in your dishwasher to clean when they've been well-loved or need a good refresh. Every kitchen needs at least a couple of these scrubbies!
Shop the scrubbies here.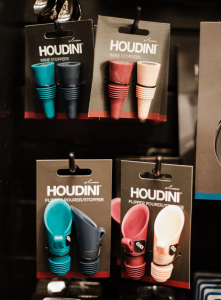 2. Wine Stoppers
   If you love wine as much as I do, you know you can never have enough wine stoppers. They either end up going home with guests after a fun night or suddenly disappear after a few too many glasses. We have some adorable colors that will make a perfect gift for your favorite wino!
Shop the wine stoppers in-store.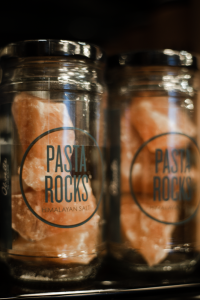 3. Pasta Rocks
  Everyone knows at least one person who loves pasta, possibly a little too much (it's me, I'm the pasta lover). Pasta rocks salt your pasta water the perfect amount every time and help you take the guesswork out of it. They are the perfect stocking stuffer for those who love to cook or just love to eat pasta!
Shop the pasta rocks here.

4. Sweet Haven Tonics
  Sweet Haven Tonics have made a big splash at Plum's and we can't get enough of them! These tonics are perfect for holiday entertaining or for enjoying alone. They pride themselves on the 30-second craft cocktail and they have truly outdone themselves with their delicious flavors. All you need is sparkling water and your spirit of choice, or leave out the spirits and enjoy a tasty mocktail. What a great stocking stuffer for your favorite hostess or cocktail lover!
Shop the Sweet Haven Tonics in-store.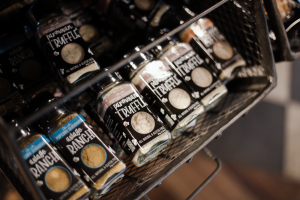 5. Popcorn Seasonings
  Spice up your go-to movie snack with these tasty popcorn seasonings! Perfect for your favorite popcorn lover and yourself. Who doesn't love a good bowl of popcorn before a movie? The parmesan truffle is to die for!
Shop the popcorn seasonings here.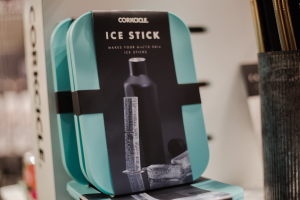 6. Ice Stick Molds
     Nowadays everyone has a favorite water bottle that they carry around with them everywhere. You won't have to struggle to fit chunky ice cubes into your water bottles anymore with these ice stick molds! The skinny shape fits perfectly in any bottle and in any stocking.
Shop the ice-sticks in-store.

7. Viski Ice Mallet
    Tis' the season for holiday parties and fun cocktails! Upgrade your cocktails with superior ice. The Viski ice mallet's canvas bag absorbs excess water, creating dryer ice. Wow your holiday guests with not only your tasty cooking but also your delicious cocktails.
Shop the ice mallet in-store.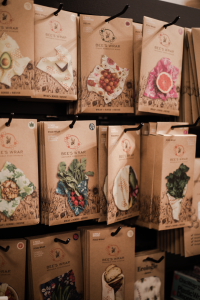 8. Bee's Wrap
   Ditch the plastic wrap and minimize your waste with Bee's Wrap.  Bee's Wrap is a reusable food wrap to keep your food fresh while helping out the planet. This organic, cotton-infused beeswax is a great gift for everyone including mother earth!
Shop the bee's wrap here.